10 best mini fridges to keep drinks cool in small spaces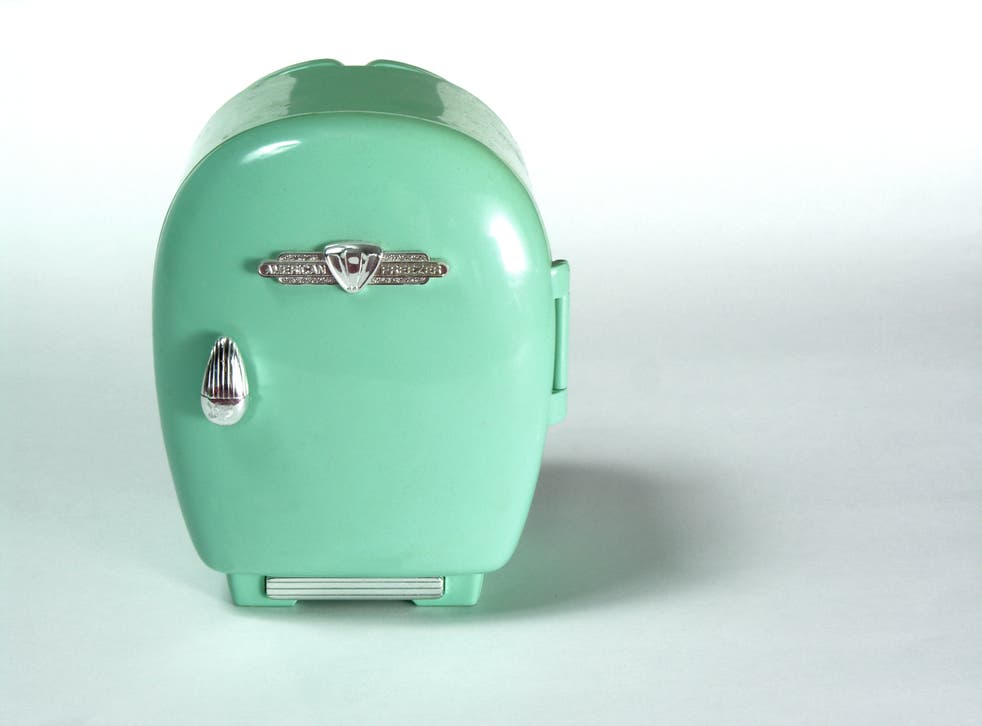 A miniature refrigerator might seem a little unnecessary at first, but their uses are varied: Beauty and skincare enthusiasts will love having their cooling night creams right there at bedtime; sports enthusiasts who love halftime beers will be grateful to not miss a moment of the game with a drink fridge near the big screen; people with in-home bars hosting guests won't have to retreat to the kitchen for another round when entertaining. Myriad uses abound, but which model is right for you? 
We looked at a variety of mini cooling units, many of which come in gorgeous colors and styles. The retro kitchen gadget trend continues to dominate in 2021, hence the many mid-century modern and other vintage style options below, but those with a flair for the modern will enjoy the more streamlined version below. Whatever your purpose or required size, here are several of our favorite compact refrigerators in every budget for your home, office, and beyond. 
What to consider when buying a mini fridge:
-Size: You can go small, but how small should you go? Go slightly bigger (think a quarter of a standard size) when shopping for an apartment or dorm room, and go much smaller and lighter when considering an option that will travel easily. We've included both options here.
-Capacity: What will you store in the fridge? If you're just buying to keep in your bathroom for moisturizers and serums, you can get away with the tinier options we found. If you want to keep a well-stocked minibar in your basement, look for expanded capacity and extra shelving that will keep your fridge organized.
-Dimensions: Check the dimensions so you don't end up with a fridge that won't fit your space! You're sizing down to save space presumably, so make sure you're not buying a fridge three inches wider than the area you plan to keep it.
RELATED: Check out out favorite cheap microwaves for rounding our your small space's kitchen needs.
As always, you can trust our independent reviews. We may earn a commission from some of the retailers, but we never allow this to influence selections, which are formed from real-world testing, expert advice and our own research. This revenue helps to fund journalism across The Independent.
Cooluli Mini Fridge Electric Cooler and Warmer (4 Liter / 6 Can): AC/DC Portable Thermoelectric System w/ Exclusive On the Go USB Power Bank Option (Pink)
This little pink dream is perfect for girl-ing up your office or beauty room with a touch of pastel that will soften any color scheme. 
Petite and pretty, the Cooluli holds up to six cans (or a few less plus some snacks) but is really ideal for storing skincare that works best when cooled down to help with topical inflammation reduction. Some users even note it's great for storing breast milk right in your nursery, thus reducing the need to run to the fridge for a midnight feeding. 
The Rundown
Capacity: 4 liters / 6 cans
Energy Use: powered by EcoMax technology: includes AC, DC & USB power cords for portability and flexibility
Noise Level: 28dB
Nostalgia 0.4 cu.ft. Retro 6-Can Personal Mini Refrigerator in Aqua without Freezer
Another pastel option on the smaller side of things is this retro throwback model by Nostalgia that perfectly encapsulates the style of yesteryear in a thoroughly modern convenience. 
10 x 10.43 inches, this little guy is just enough for the bare essentials and cools to 40 degrees Fahrenheit. The thing that sets it apart from the competition? It also heats food up to 130 degrees F, making is dual purpose for hot and cold beverages. Grab one for your office and never have to make a midday run to the kitchen again. 
The Rundown
Capacity: 0.42 cubic feet / 6 cans
Energy Use: thermoelectric technology; includes power cords for both AC and DC outlets; 100% freon-free and eco friendly
Noise Level: unlisted
Magic Chef Retro 3.2 cu. ft. 2 Door Mini Fridge in Red
Our next suggestion is a significant jump in price and size, but functions perfectly for the type of person who needs more storage and cooling power–ideal for someone in a roommate situation who wants to ensure their leftover don't get swiped from a communal fridge. 
The red color seen here on the Magic Chef 3.2 cubic feet mini fridge is a bold option to add character to any space, but white and mint green are also available if you're looking for quieter shades. Handy shelves help organize foods in the door and main compartment, and a separate freezer allows for frozen goods to be tucked away without the fear of thawing. 
Capacity: 3.2 cubic feet
Energy Use: Energy Star Certified meaning it "meets or exceeds federal guidelines for energy efficiency, which means year-round energy savings"
Noise Level: dB unlisted but one reviewer notes "not too loud" while others say it does make some noise during operation
3.1 cu. ft. Mini Fridge in Stainless Look
 If a retro vibe isn't quite your speed, Magic Chef also offers sleek stainless options like this 18.7 x 33.5 inch model seen here. It also contains a freezer complete with a separate door, and the polished look will be unassuming and modern in any living space. Black and white options are also available in the same model. 
The Rundown
Capacity: 3.1 cubic feet
Energy Use: Energy Star Certified
Noise Level: six reviewers answered that there is an "extremely faint" noise but it's quieter than most other models they've purchased or could hear nothing at all
Insignia™ - 130-Can Beverage Cooler - Silver
If you're reading through this list and think "blegh, what's all this cute stuff? I'm looking to beer-up my man cave," well… here you go. 
This mack daddy holds 130 cans of your beverage of choice–boozy or not–and contains a whopping 4.6 cubic feet of storage space. An LED light and clear door allows you to see exactly what you're grabbing, so snag one of these to put in your home bar to ensure you never have to break from the party just to grab a couple brews. 
The Rundown
Capacity: 4.6 cubic feet
Energy Use: estimated 298KW hours per year of use, predicted to save you $36 annually
Noise Level: reported to be "very quiet" by multiple reviewers
Koolatron 6 Cans (12 oz.) Freestanding Beverage Refrigerator
Diet Coke enthusiasts will love this small but adorable cooler than can also heat items up to 132 degree F! It's compact, holds half a dozen beverages or any number of other essentials you may need, and it's easy to cart around as needed.
The Rundown
Capacity: 2.3 quart / 6 cans
Energy Use: Thermoelectric cooling, eco-friendly
Noise Level: quiet due to thermoelectric cooling
Personal Chiller Mini Fridge Black Marble K4107MRBK
There's something very art deco about this low-cost option. The marbling and minimal shape lend a certain sophistication, making it ideal for a dark aesthetic beauty room for the skincare lover with an edge, or just something classy to stick next to your bed so you can keep a cool bottle of water on hand. Either way, it's hard to beat the under $30 price tag. 
The Rundown
Capacity: 4 liters / 6 cans
Energy Use: thermoelectric technology; 110v AC for a household outlet, or 12V DC for mobile use, both interchangeable power cords are included; 100% freon-free with low energy consumption
Noise Level: quiet, vibration-free operation
Frigidaire Portable Retro 12-Can Mini Fridge EFMIS462, Blue
Yes, we're including two teal blue retro-looking options on this list because let's face it, the color and shape are simply adorable. 
This Frigidaire has the benefit of a tried and true name behind it, plus it holds up to 12 cans and is portable thanks to a convenient handle. Think of it as a stylish cooler and mini storage unit in one, and revel in the atomic shapes created by the text and front window on this unit. 
The Rundown
Capacity: 9 liters / 12 cans
Energy Use: powered by 110V (AC) wall outlet; plugs in to 12-Volt car adapter or home outlet, both cords included
Noise Level: vibration free thermoelectric cooling system makes it quiet and safe
Koolatron Portable Cosmetics Fridge with LED Lighted Mirror, AC/DC, 6L
Now this is a beauty fridge created just for the skincare lover who wants the convenience of chilled products and a light-up mirror to boot!
Six liters of storage space leaves plenty of room for all your skincare plus a bottle of water, medicine, or anything else you want cooled. The removable shelf makes it easy to customize, and the vibration-free cooling element means quiet and efficient cooling operation.
The Rundown
Capacity: 6 liters
Energy Use: powered by 110 Volt AC or 12 Volt DC; power cords included
Noise Level: vibration-free, reliable, efficient, and quiet cooling operation
Uber Chill Six Can Mini Fridge
Sleek and functional, this compact unit has a gorgeously vivid retro look to it and is environmentally friendly thanks to thermo-electric peltier technology. In addition to cooling, it can warm foods as well so versatility is the name of the game.
The Rundown
Capacity: 4-liter size, holds up to six 12-oz. cans or four 500-mL bottles
Energy Use: solid-state thermo-electric cooling system
Noise Level: described as "discreet and quiet" by reviewers